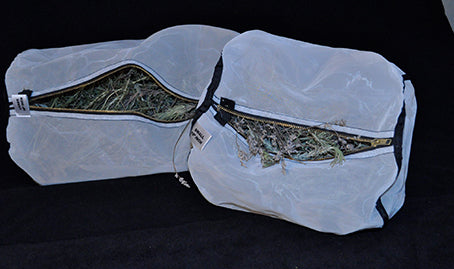 WASH BAGS
These small wash bags are to be used in combination with small washing machines, such as a bubble machines or bubble-ators. XXXTractor bubble bags are fully assembled in Canada. The mesh and zipper are of the finest quality. These wash bags are tough and durable, earning the nickname, the "Ice Master". These wash bags are to be used in combination with standard washing machines for a bigger payload.
Shop WashBags
FAQs
How To Use Our Wash Bags

Extracting herbal material with the cold extraction method (or ice-water extraction method) takes a bit of knowledge of our products and the correct process. In general, extraction is a two-step process.

First, you'll want to mix plant material with ice and water (ideally, reverse osmosis or RO water for best results).

Then, you can utilize our bubble bags to separate and extract the herbal flower material. If you're opting to use our wash bags, then you'll take a lot of the manual work out of the process.

A regular washing machine can be utilized with our wash bags to take the work out of mixing the plant material. Or, you may use a normal washing machine with a drain to create your own extraction machine.

Then it's time to get started.

Getting Started

To get started, we recommend that you gather all the materials you need. Also, it's best to place your plant material in the freezer for about an hour before processing, if you have a freezer available. Alongside the appropriately sized wash bags and bubble bags (you can see size guides in individual products), you'll need all of the items listed below.

What You'll Need

Wash Bag(s)

Set of 3 XXXTractor Bubble Bags

Washing Machine

Scraping Tool (or a credit card)

4 Bags of Ice

Paper Towels

Clean, Unused Plastic Bucket With Drain Valve (sized for the bubble bags)

Strainer, Suitably Sized to Place in the Bucket

The Step-By-Step Process

Clean your washing machine: If you're using a regular washing machine, you should clean it before starting. Run a rinse cycle with a ½ box of baking soda.

Fill your wash bags with plant material: Plant material should be prepared with no hard branches or stems. Break larger flowers into smaller pieces, but do not grind or crumble the flowers. Place flower material into your wash bags with a half of a small bag of ice per bag. Secure the zipper and velcro.

Fill the washing machine and run a rinse: Fill your washing machine with three bags of ice and add cold water. You can use reverse osmosis water to improve results and quality. Run the washer on a normal cycle for 15 minutes. Keep the lid closed and keep the drain hose inside the machine during the wash cycle. Shut off the machine after 15 minutes, and let it stand for 10 minutes. Then run it again for 15 minutes, and let it stand for an additional 10 minutes.

Before draining: Before running the drain, be sure to prepare your bucket with the strainer and the three XXXTractor bags.

Prepare bucket, and drain: The strainer should be placed upside down at the bottom of the bucket to make draining easier. Bags should be placed in the correct order (yellow inserted first, then orange, then red for most extractions). 

Finally, use the washing machine drain function to drain the water and material into the bucket. Rinse the machine with water to clean out all material, pushing it into the bucket.

Draining the bucket, removing bags, and rinsing: Let the mixture drain through the bags, out the bottom of the bucket. Remove the top bag and squeeze any materially lightly to drain into the orange bag still in the bucket. Set the red bag aside, and remove the orange bag. Place the orange bag with the mesh and material on some paper towels. Scrape off the extraction material and place it on a plate to dry. Set aside the orange bag, and repeat the same instructions with the yellow bag, collecting the extraction material. 

*Take note: Try not to press the extraction material into the mesh, since it can get caught in the fine mesh.

Air dry: Let the extraction material air dry.

Clean materials: Rinse all bags thoroughly and allow them to dry.

Questions?

Curious about our wash bags, our bubble bags, or the extraction process? Don't hesitate to reach out to us with your questions. We're here to help! You can also read more detailed instructions in our Wash Bag Guide. The guide also contains instructions in French.
Can you ship everywhere in Canada?

We can ship anywhere in Canada and international.

Shipping fees may vary depending on your location.

Orders $100.00 CAD or higher are eligible for free shipping
What's your return policy like?

If You Are Not Entirely Satisfied With Your Purchase, We Are Here to Help.

Returns
You Have 30 Calendar Days to Return an Item From the Date You Received It.

To Be Eligible for a Return, Your Item Must Be Unused and in the Same Condition That You Received It in. Your Item Must Be in the Original Packaging or Have a Manufacturing Defect.

Your Item Needs to Have the Receipt or Proof of Purchase.

Refunds
Once We Have Received Your Item, We Will Inspect It and Notify You That We Have Received Your Returned Item. We Will Immediately Notify You on the Status of Your Refund After Inspecting the Item.

If Your Return is Approved, We Will Initiate a Refund to Your Credit Card (or Original Method of Payment). You Will Receive the Credit Within a Certain Amount of Days, Depending on Your Card Issuer's Policies.
Bag Color Guidelines

220 micron bag | RED | work bag
150 micron bag | BLUE | contaminant removal bag (food grade/low quality)
100 micron bag | GREY | crystal collection bag (prime quality)
75 micron bag | ORANGE | crystal collection bag (prime quality)
25 micron bag | YELLOW| crystal collection bag (food grade/low quality)
*For orders over $100.00 CAD